Hello everyone,
Over the last two years (time flies!), you have been sharing with us your stories playing Haven, how you thought Yu or Kay reminded you of people you knew, how some of you enjoyed playing the game with a partner, and how you were touched by their adventures in the world of Source. We received so much love from this community, so again thank you for all the messages, artworks, or recipes shared. It's time to give a little back, so let's have a new community week celebration!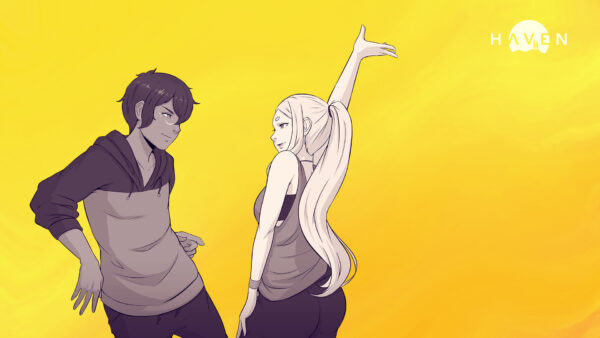 For this new Haven Community Week, we will share some behind-the-scenes details and secrets about the game, new wallpapers, interviews with some of the team members who worked on Haven, a selection of our dev team's favorite love stories, and more! As a tradition now during our community week, and because many of you are so talented, we are having a Fan art contest on the theme "You love them when they do…". All the details and the prices to win are available here. We can't wait to see what this subject inspires you!
Haven is also discounted with the highest discount ever, -60% off on Steam, GOG, PlayStation, Nintendo Switch and 50% off on Xbox so we count on you to spread the word among your friends!