Note: Some questions containing spoilers are listed at the very bottom of the page.
Updates and Patch notes
We will be listing the patches on our dedicated blog post here.
Known issues
If you want to know about the bugs and issues and solutions for them, you can check the dedicated post on Steam forums.
What platforms is the game available on?
The game is available on PlayStation 5 and 4, Xbox Series X and One (Game Pass), PC (Steam, GoG.com, Microsoft Store…) and Nintendo Switch.
Is there a physical release planned?
For now it's digital only. We will explore collector editions in 2021.
Controls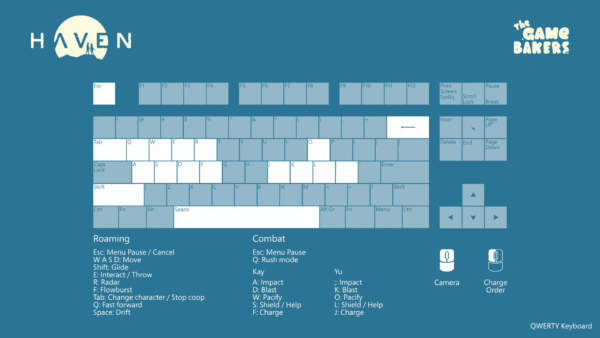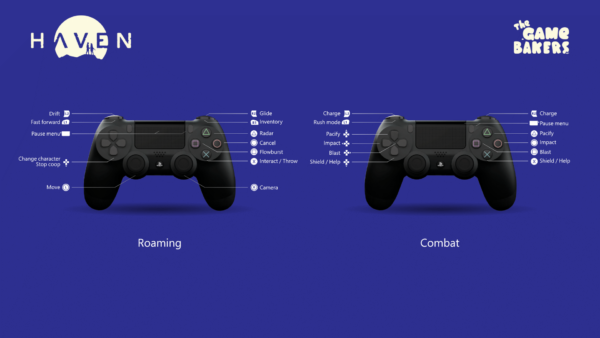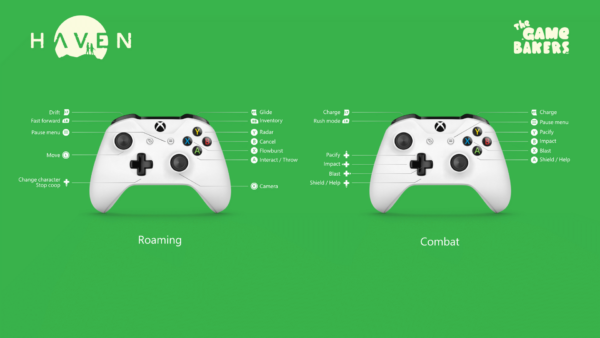 What languages are supported?
Voices: English
Text: English, French, Japanese, Simplified Chinese, German, Brazilian Portuguese, Russian, Italian, Spanish.
How to play co-op?
The game is playable solo, but at any time a second player can join locally (couch co-op). Co-op online is not supported.
To start co-op, you just need to activate a second controller. On PC, you can choose whether you want to play with two controllers (by default) or one controller and one keyboard (you can choose that from the options menu, controls section).
We have heard some players use Remote Play on Steam with good results to play together remotely. The experience can vary greatly according to the network setup and conditions of the two players. Our recommendation is that the player with the best connection launches the game. It's important to note that Remote Play simulates a local game, so two controllers are also needed to play co-op. (Note: co-op with two players using KBM controls is not supported. It's either two gamepads or one gamepad and one KBM).
We haven't tested Play Together on PS5 yet as we could not get our hands on PS5 consoles haha. Let us know.
About the 18+ rating
The 18+ rating is mostly due to the age rating process, as a healthy representation of love does not fit into classic videogames age rating categories.
SEX: In our view, there is nothing shocking for a 16-year-old in the game, and very little sexuality. But it's true that you dive into the intimacy of a couple, and that on some occasions, they talk about sex. Mostly in a funny manner. There is no full nudity or sex scene. You only see them before or after they have sex, like in mainstream Hollywood movies. They sometimes talk about sex, but in a light and evocative way. The goal of the game is not to make players horny, it's to make they touched and happy.
VIOLENCE: There is not much violence in the game as the creatures are only « pacified » and return to their normal state after a fight.
DRUG AND ALCOHOL: On some occasions they will drink their own concoction – Applebrew! – and might try some food that could cause some side effect. This also explains the rating.
To sum it up: we understand the rating could have been confusing. We wish the game could have been rated 16+ but we felt it was safer to rate it 18+ to avoid any misunderstanding
On PS5, can I play with a DualShock4 (PS4 controller)
Unfortunately no. That's a Sony limitation.
The DualShock4 only works on PS5 with PS4 games. However, if you bought Haven on PS5 you'll be able to download Haven PS4 (when it releases early 2021) for free. And then, you can play the PS4 version on PS5 with a DualShock4.
Good to know
Drifting (taking short turns) makes navigation MUCH smoother. When you need a strong change of direction, it's smoother to hold the left trigger and turn, rather than stop and replace the camera.
Eventually, there's a map in the game, it's just not unlocked from the start.
There is a feature to speed up dialogs or auto play combat. It's mapped on Q / L1 / LB. It's completely optional and mostly useful for replaying / completion.
You can use medkits and cures only in a safe place (nest or camp). But later in the game you can use balms anywhere outdoor (combat or exploration).
It is possible to invert controls.
The game is 10-12 hours long if you don't explore everything.
Saving happens during loading screens, so if you want to save « manually », just enter or exit an islet or the Nest.
Save files on PC are located on C:/users//AppData/LocalLow/TheGameBakers
Wallpapers
You can find wallpapers of the game over here.
How to report a problem
On Steam you can head to the Community Hub and post in the forums HERE.
The Game Bakers Discord is also a good place for information:
If you play on console or another platform, you can also reach to support@thegamebakers.com 
We will keep the known issues up to date on this website.
Thank you!
/!\ANSWERS CONTAINING SPOILERS /!\
Where is the last part to repair the Nest?
After you reach the volcano on Wakiri, if you go back to the Nest, Yu will highlight all the interesting locations on the map. If you don't have any highlighted location but still miss a part, maybe you didn't open a bridge? Look at the blue lines on the map, these are un-open flow arcs. The Left Wing is on Wakime, south of Wakiri.
Where is the hyper rust?
One is on Lonako and one on Nekatai (you need to fly a flow thread to reach the area). There are two other hyper rust chunks: one you need to beat the lorudo on Wakiri and several other islets. The other is when Oink gets rusted again on Guyame, after you scratch him a number of times.