Hi, We are launching today an update to Furi on Steam: the Invincible mode.
In the vein of Soma's Safe mode or Celeste's Assist mode, the Invincible mode is great for players who want to overcome a challenging fight to enjoy the audiovisual and narrative experience that is Furi. But it's also perfect for gamers who want to practice their fight, in particular speedrunners looking to improve their record!
We've also added a new control scheme that was directly inspired by discussions with gamers from the community.
The update is free, and a Steam Daily Deal is bringing the game at 7,99 $ / € (-60%) starting at10AM PST / 19h CET today.
Furi on Steam: https://store.steampowered.com/app/423230/Furi/ 
More info on the update and the game below.
Cheers,
– Audrey for The Game Bakers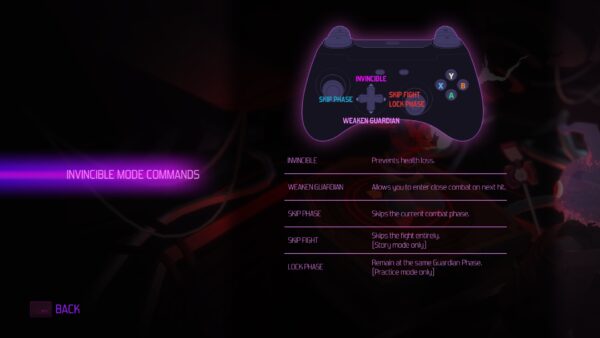 Furi Invincible mode lets players focus on the story
or practice their run
Montpellier, August 28th 2018 – French indie game studio The Game Bakers is releasing a free Steam update today for their hit action game Furi.
« Furi's been called difficult by many, but it's also a game that has been praised for its visual universe, its meaningful story or its high energy soundtrack. That's why we designed this update, to let a non hardcore audience enjoy a bit of Furi too. » said Audrey Leprince the studio co-founder. The update also proves very useful for the more hardcore crowd, giving them a set of useful commands to practice their fights.
Furi's Invincible mode update includes:
The Invincible mode: a set of commands that can be used to become invincible, skip a fight, skip or lock a certain phase in a fight, or weaken a boss. The feature can be used in Story mode by players who want to focus on the narrative and audio visual experience without worrying about the challenging fights. It enables players to skip completely a boss or just a difficult phase. But it can also be used by experienced players to practice their skills, in particular by speedrunners looking to practice the combat phases they spent the most time on.
Control Scheme D: an alternate control scheme, that helps dodging or parrying while shooting/slashing, and was designed based on discussion with the game community.
The update is free and available now.
The daily deal, -60% at 7,99$/€, is running from Wednesday August 28 to Friday August 31 (10 AM PST.)
Furi on Steam: https://store.steampowered.com/app/423230/Furi/
ABOUT FURI
Fight your way free in our frenzied all-boss fighter, and discover what's waiting behind the last gate. Furi is an ultra-responsive combat game with a unique mix of fast-paced sword fighting and dual-stick shooting. Each of the formidable guardians—designed by Afro Samurai creator Takashi Okazaki—has a unique combat style that requires focus and skill to defeat. The high-energy action gets a boost from an award-winning soundtrack composed by up-and-coming electro and synthwave musicians.
Deemed « supremely stylish », « genre-bending », and « intensely engaging » by the gaming press and praised for its unique mix of sword fighting and dual-stick shooting, Furi has garnered an overwhelming 93% positive reviews on Steam.
Furi is available on Switch, PC, PS4 and Xbox One. www.furigame.com
ABOUT THE GAME BAKERS
The Game Bakers is an independent game studio founded by Audrey Leprince and Emeric Thoa. To sum it up, we say we make our games like we cook our food: with a lot of love, and a bit of luck. We strive to bring gamers experiences that will be remembered long after the game is finished. The studio is based in France, but we work with a team of collaborators around the world. Aside from the Squids, our track record since going indie includes Furi our frenzied bossfight game available on Switch, PS4, PC and Xbox One, and the mobile brawler Combo Crew.