Hello everyone,
7 days to go before launch! I can tell you the bakery is buzzing here! We'll have ample time to tell you more about the game after launch, but there was something that we really wanted to share, as so many of you have asked: who are the amazing actors behind Yu and Kay! It's time to reveal them…
While casting for Yu and Kay we were looking for actors that would excel at conveying subtle emotions, every day life feelings, and be at ease with intimacy and humour. Those are challenging roles for actors as they require solid performer skills but also enough personal experience to recreate the texture of a relationship with authenticity.
Working in London with the team at SIDE, we were very lucky to meet :
Janine Harouni and Chris Lew Kum Hoi!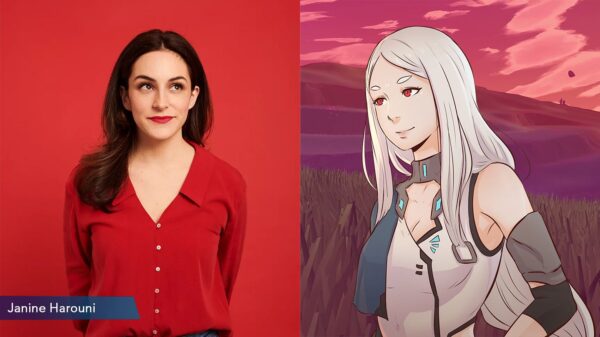 The two actors recorded the 80 000 words of dialogue together in the SIDE studio in London in 2019 and 2020, reenacting the scenes together to achieve as much complicity and authenticity as possible.
Before to meet Yu & Kay in a few days, here is a short interview of the actors behind them!
Can you introduce yourself? Can you tell us about you and your career?
Janine: I'm originally from New York but I've been living in the UK for the last 8 years. I've been lucky enough to voice parts in some really fantastic games and I've done small roles in fun films and TV series. Next year I'm going to be a series regular in a new sitcom called 'Buffering' on ITV2 next which I'm really excited about. But mostly I'm excited for comedy clubs to open up again so I can get back to doing stand up. I did my debut show last Edinburgh which got nominated for the Best Newcomer award. Which was a very lovely thing to happen and means I no longer have to do gigs in the basements of grimy pubs. I now do gigs on the ground floor of grimy pubs. So things are moving up in a very literal sense.
Chris: Not quite sure where to start. I originally trained in a drama school in the South of England and upon graduation left to work in the theatre and gradually building up into screen work – proud to say I'm part of the Dr Who universe. By chance, I stumbled into the voice over world. I was doing a theatre workshop and a friend asked me whether I did voice-over. I lied and told him I had done a few before and he suggested me for a videogame audition. I ended up getting the job and a hop, skip and a jump into the future and here I am doing Haven – a project which I'm very proud of working on.
At the very beginning when you started working on Haven, what did you expect? Did you expect that kind of game? That kind of dialogs?
Chris: From the first readthrough, I was taken by how naturally the script settled in the mouth – it had a simplicity that I hadn't experienced before and that's exciting. The words could go in so many directions. I didn't really know what Haven was going to be but knew that there was a beating soul that needed to be let out into the videogame universe.
Janine: I'm not sure what I was expecting. I had never worked on a game for that long and I had never done VO with another actor in the booth with me. It was amazing to get to spend that much time working on something. I really felt like I knew both our characters inside and out by the end of our recording. And it was incredible to get to work on such a rich and dynamic story. I just feel very lucky to be part of such a fantastic game!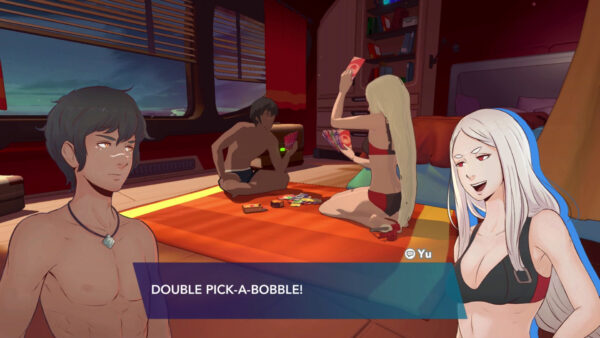 Haven has a very special setting as it is heavily focused on two characters, a couple in love. How did that make the recording different from another game?
Janine: Lots of times when you work on a game you only record your lines. Sometimes you read with the director but lots of time you just record your side of the dialogue with very little context. Working on Haven was brilliant because I got to be in the booth with Chris. Which means we were able to react to each other and be in the moment. That's something you rarely get to do when recording games. It made everything feel much more intimate and real. Working with Chris and our brilliant director Damien Goodwin, was a dream – I really felt I was in safe hands and learned so much from both of them.
Chris: So different! In most other videogames, you are in a booth by yourself and rarely do you get to hear what the other actors have created – you have to kind of guess and the director does their best to read in the plethora of other characters (sometimes to a hilarious extent). But with Haven, I got to work with the lovely Janine in the booth. This had a huge positive impact on both our performances. Aside from Janine just being fantastic, there's a chemistry that the characters had to have that you just can't recreate without having both people in the room together. It always made the recording sessions exciting – you don't know what your partner is going to throw at you.
Would you say you can relate to that couple, or to your character?
Chris: Kay I hold close to my heart. He's desparate to be cool but can never get it quite right. He's vulnerable and sensitive and a perfect match for Yu. She has a fire that keeps him in check and he has a jokey manner that pokes holes in Yu's armour. I think that's why they work so well. My partner and I share the same sort of relationship – we're so different in our tastes etc. But it's that different perspective that gives both the resistance we need and the freedom to be ourselves. I also definitely have Kay living in me – we're both kind of in awe of the world whilst bumbling through it completely lost. Might as well enjoy the ride whilst on it eh?
Janine: My real life partner is a lot like Kay actually – more cautious and analytical than I am. I'm more like Yu, a jump-into-things-now-and-figure-them-out-later kinda person. Which can be fun, but can also lead to some VERY weird nights out.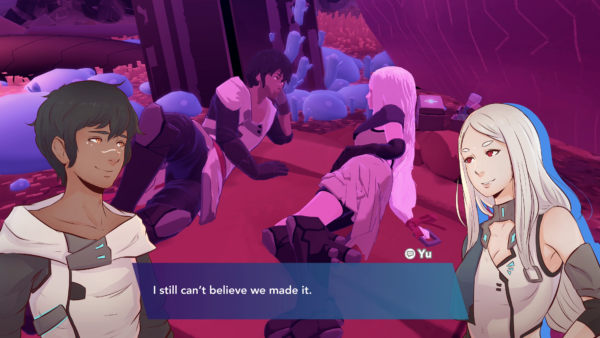 Can you share a funny or memorable moment that happened during the recordings?
Chris: The one that springs to mind are the « R » rated scenes. Performing it was hilarious because I went for it and knew that everyone around me was going to feel awkward. At the end of it, there was a pause, and Janine just said, « is it hot in here? » that for me was the best praise ever. That and Muffin and Cupcake! Can't forget the joy they brought.