Over the last 5 months, we welcomed 3 talented interns in our studio: Louise, Maya, and Leelou. They had a mission: create their own game, from scratch to publishing with mentoring from the whole team at Game Bakers. 
We're very happy to announce that their game, The Right Shot, is available today!
Play the game here: https://thegamebakers.itch.io/the-right-shot
The game is free, but you can give more and all the money raised will go to Secours Populaire. The charity supports people who are victims of social injustice, poverty, hunger and armed conflicts.
In The Right Shot you play as a little devil serving cocktails to the bar customers. Catch them, throw them: whatever it takes to serve them quickly!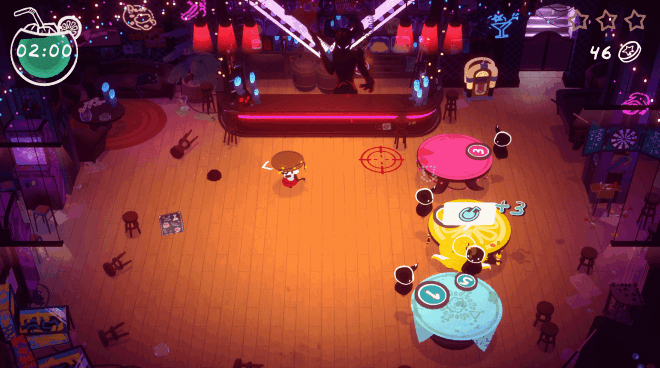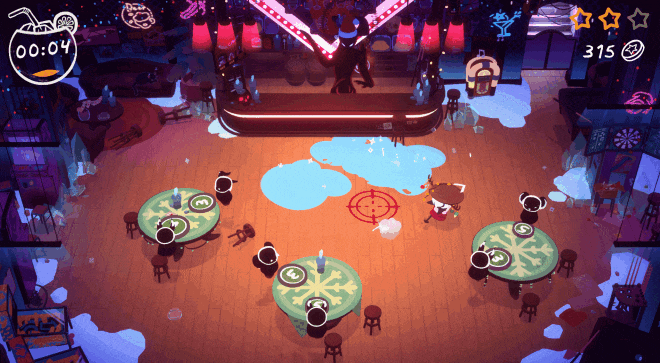 Meet the team
While the game design was teamwork, each team member had their own specialties.

All the graphics of the game were made by Louise Jandot dit Danjou, who also took care of the management of the game production. She studied video game conception at LISAA. She enjoys getting lost on artstation, discovering new things & people in general! instagram.com/l.usie/
Maya Hill, who is in her first year at Epitech studying computer science, took care of the programming of the game. She loves playing video games as much as she loves creating them, and uses reading as a source of creativity and inspiration. And she's fond of cats, cats everywhere.
Last but not least, Leelou Puech, who learned game design at Eart-sup. She worked on the game design and level design while working in parallel on the QA of Haven and Furi. She's in love with hiking, cinema, theater, painting… Listening to music goes hand in hand with creating it for her! > twitter.com/LeelouPuech
Our studio has always been looking for ways to give back and support developers in our beautiful industry, in general, and with a particular focus on women over the recent years. We usually only take interns to work on our games in production, but considering how difficult it was during the Covid years for students to find an internship, we decided to do a bit more. This is why we created this « sur-mesure » internship for the 3 students, to help them get practical knowledge, mentoring and the applied learning they needed for their studies.
The whole team at Game Bakers is very proud and impressed by the result of their work! There's no doubt they will make great games in the upcoming years!