We hope you had a great summer. On our side we kept busy: we launched Haven physical editions with Limited Run and we were working on the first content update for Haven… And that's it, it's ready: Sweet Little Things is available today for free, on every platform!
The update brings in particular:
Two new costumes for Yu and Kay: « Streetwear » the hot style in the street, and « Top/Truth » inspired by the style of their origin planets.
A meloglide: music is a huge part of Haven's experience. Now, you will be able to choose which track of the OST by Danger to listen to while chilling in the Nest or exploring Source.
A concept art gallery: we know many of you love concept art and we wanted to share a bit of the making of Haven, and the work of our talented art team.
A new kiss for our two lovers.
A Theme for your PS4 background
And many quality of life improvements based on your feedback.
We hope you will enjoy it ❤️.
You can read the full patch note below!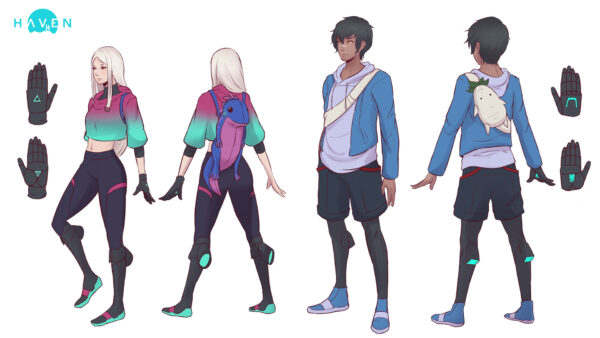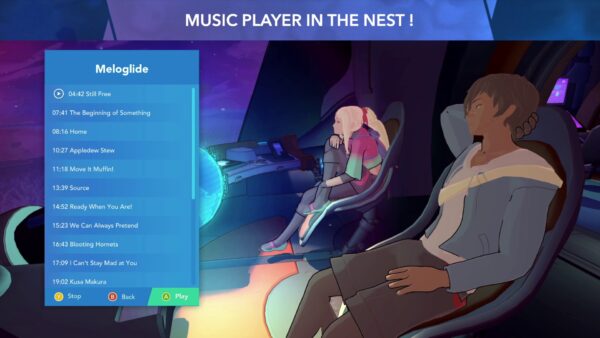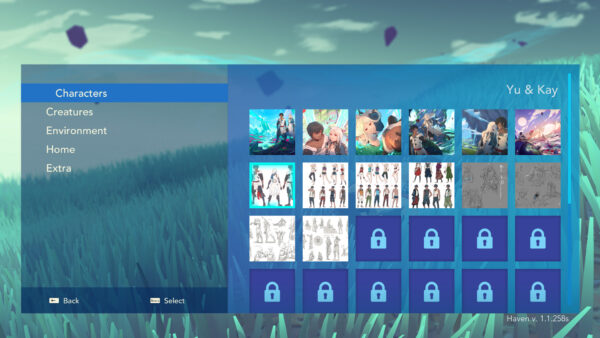 Patch note – « Sweet Little Things » – Content Update 30/09/2021
Versions number:
Steam, GoG, Epic: v1.1.258
Switch: v1.1.250
PS5: v1.1.246
PS4 SIEA: v1.1.246
PS4 SIEE/SIEJA Asia/SIEJA Japan: v1.1.255
XBOX One, Series/ PC UWP: v1.1.246
Common to all platforms:
New features:
Two new outfits for Yu and Kay: "Streetwear" and "Top / Truth". They can be worn after finishing the game 

A Meloglide to listen to the game music of your choice while roaming or hanging out in the Nest after finishing the game 

A gallery to discover artworks and concept art from the making of the game, they unlock during the game
Improvements:    
Load save menu now shows your progression in terms of ship parts and equipment

Multiple capsules can now be crafted at once

After cooking, it's now possible to choose which dish to eat

Bonus loot is now rewarded when pacifying multiple creatures at the same time during combat

Alternative kiss animation added

Some settings can now be configured differently between the first and second player in co-op

Added more sounds and visual effects to several menus
Bug fixes:
Fixed main menu music stuttering sometimes

Fixed the scrolling behavior in the settings menu

Fixed an issue when starting a new game where the intro cutscene wouldn't play

Fixed a case where characters would keep their spoon in hand in a post-meal dialog

Fixed a dialog about slugs dividing into two. They now do.

Fixed a music overlap problem when exiting camping

Fixed vibrations that continued when skipping some cutscenes

Fixed several typos in some texts and dialogs
Xbox One, Xbox Series, PS5
Bug fixes:
Fixed an issue blocking the start of the Holobug cutscene

Fixed missing portraits in some story events
Nintendo Switch
Improvements:
Balancing on the rust needed to craft, upgrade and repair

Flowburst ability doesn't consume flow anymore

Added a generic animation when using the shower after exhausting every dialog

Prevented Beruberu to start fighting during the flow burst tutorial

Bridges guarded by Tamajus open automatically after the player uses a flow burst

Grass in the menu looks better, even when it's far

Added sound effects when interacting with a Nokk creature

Improved character animations and navigation

Allowed characters to jump more often

Improved creatures animations and navigation

Islets can be cleared even if there is still a nightcrawler roaming

The anti-gravity sticks can't be missed anymore

Added a field of view option
Bug fixes:
Fixed an issue blocking the start of the Holobug cutscene

Fixed a black screen if returning to the main menu while characters are in a building

Fixed a bug where the game appears blocked due to a tutorial's popup being hidden

Fixed a bug on the climb interaction when Birble is leaving the islet after a bait

Fixed a bug where players could miss the event to upgrade the gloves after repairing the last ship part

Fixed a bug where players could miss a mandatory cutscene before the end

Fixed a bug where a character could end at 0 hp after combat

Fixed islet descriptions that did not update properly while being discovered

Fixed a bug that could get the Beruberu stuck if the heroes lose it by gliding onto a flying flow thread

Fixed visual glitches on creatures walking close to the edge of an islet

Fixed controls issues while cooking

Fixed a visual glitch on the Nest greenhouse visual

Fixed the duplicated guitar glitch in the Nest

Fixed the last seed dialog playing twice

Fixed a soft lock on the credits scrolling when players played the epilogue twice in the same session

Fixed the cooking reward popup that wasn't allowing the gamepad stick to be used

Fixed a bug on the capsule tutorial dialog in combat

Fixed missing portraits in some story events

Fixed some typos

Misc bug fixes
PS4
New features:
Added a free PS4 dynamic theme that can be recovered in the gallery menu
PC Windows
Improvements:    
Keyboard and mouse controls rebind overhaul
Bug fixes:
Fixed an infinite loading issue when launching the game on Windows 7

Fixed an issue blocking the start of the Holobug cutscene

Fixed missing portraits in some story events