We are delighted to announce that our all-boss fighter Furi is preparing for launch on Xbox One on December 2. Pre-order to start November 21.
Watch the official Furi trailer:

Full press release below.
– – – –
UNLEASH THE FURI ON XBOX ONE THIS DECEMBER
The Game Bakers' epic boss battler is slashing all-the-way to Xbox fans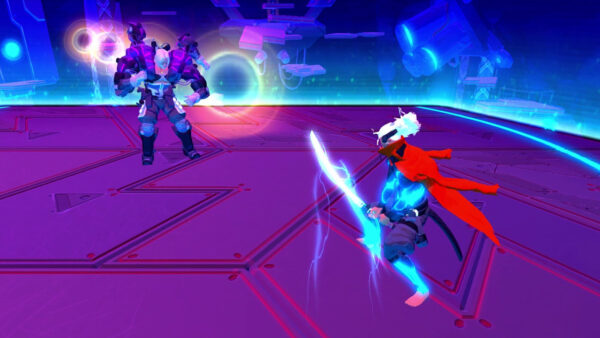 Montpellier, France — November 15, 2016 — Indie developers The Game Bakers, announced today that their award-winning, all-boss fighter Furi, is preparing for launch on Xbox One on December 2. Xbox fans should ready themselves to slash, shoot, dodge and parry like never before, in a frenzied all-out boss assault.
Watch the official Furi trailer HERE: https://youtu.be/iMuHjg5oA-s
After launching to critical-acclaim on PC via Steam and PlayStation®4 earlier this year, as well as garnering an impressive 93% in positive user reviews on Steam, The Game Bakers are thrilled to be bringing their ultra-fast-paced, combat-action hit, Furi, to Xbox fans around the world. The game will be available for pre-order from November 21.
"We are very happy to bring Furi to Xbox One, especially this version that has been really polished and features a complete new bossfight. This fight requires players to master all the skills acquired during the game. It's a real test of focus" said Emeric Thoa the game's creative director.
Described as 'supremely stylish,' 'genre-bending,' and 'intensely engaging' by the gaming press, and praised for its unique mix of sword fighting and dual-stick shooting, Furi is a challenging game comprised entirely of wildly varying boss battles over a mysterious quest for freedom.
Inspired by Japanese games such as No More Heroes, Metal Gear Solid and Godhand, Furi captures the combined moment of fright, passion and adrenaline you feel when in a fight. Each of the opponents have been designed by Afro Samurai creator, Takashi Okazaki. Never missing a beat, which shouldn't be a problem with Furi's energetic, award-winning soundtrack, each boss presents their own unique threats and abilities, designed to keep players on their toes with every battle.
For more information, please visit www.furigame.com.
###
Notes to Editors:
Furi will be available on Xbox One December 2 and is available on PS4 and Steam
Furi is a boss-fight game designed to challenge your skills against a wide variety of unique bosses.
Furi is about you, the hero, regaining your freedom. While you piece the story together it raises questions on what's worth fighting for.
Character design by Afro Samurai's creator Takashi Okazaki
Award winning electro/synth wave soundtrack with all original creations by Carpenter Brut, Danger, The Toxic Avenger, Lorn, Scattle, Waveshaper and Kn1ght.
Furi offers a simple set of controls: shoot, slash, parry and dodge, and they can be charged. Furi's depth comes from the players learning how best to apply their powers against the varied bosses. Timing, reflexes, and execution will determine how you fare against each one.
Furi is a game that requires skills and reflexes. No button mashing or combo learning. You need to wait for your adversary to show an opening to fight back.
Furi's default difficulty is "Furi" mode. Beat the game in Furi mode, and you'll unlock Furier difficulty (hardcore). Beat it in Furier, you'll unlock a Speedrun mode (compete against time or number of hits – with leaderboards).
Double vinyl and digital OST, tee-shirts, poster available on the Furi Store.
Furi sites:
Website: www.furigame.com
Furi store: furi.hitpoint.tv
Furi OST: furi.bandcamp.com and https://va.lnk.to/ZRHWD
Twitter: @theGameBakers
Facebook: www.facebook.com/thegamebakers
YouTube: www.youtube.com/user/TheGameBakers